2010 Leadership Program of the Rockies Retreat (Feb 26-27)
As my friends and regular readers know, I've been a donor to the Leadership Program of the Rockies since going through the program 5 years ago.  One of the great parts of the program is their Annual Retreat at the fabulous Broadmoor Hotel in Colorado Springs.
It's a great time, that is if you enjoy meeting with people who have a passion for ideas (particularly the ideas underlying the Founding of our Republic) and who want to make a difference (thus the emphasis on Leadership) in bringing those ideas back to the forefront of the American consciousness.
Here's me, my wife, and a few friends enjoying last year's "VIP Reception":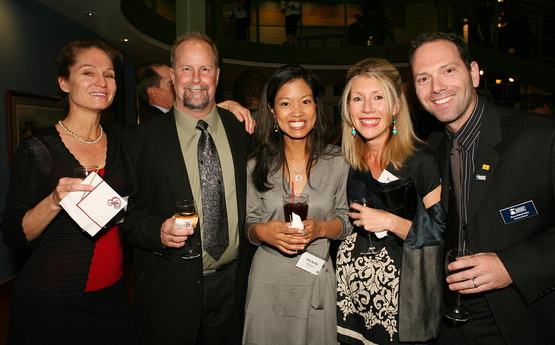 This year, the Retreat will be held on Friday and Saturday, February 26 and 27 (but my wife and I always go Thursday-Sunday because we love the hotel so much.)
The keynote speaker for the Friday dinner will be Ambassador John Bolton.  I realize that Americans are rightly concerned with our domestic economy, but we live in extremely perilous times in terms of international affairs as well.  Few people have the combination of understanding and frankness that you find in John Bolton and I'm probably more interested in hearing his talk than in any of the prior keynote addresses, although most of them were fascinating as well.
Steve Moore, currently of the Wall Street Journal and formerly of the Club for Growth and the Cato Institute, someone I'm proud to call a friend, will also be speaking (on Saturday)
Other confirmed speakers so far include Ambassador Paul Bremer, a not uncontroversial figure who helped reestablish a functioning government in Iraq (or is it functioning?) during the Bush Administration, and Craig Shirley, author of Reagan's Revolution: The Untold Story of the Campaign That Started It All.
You can keep updated on the list of confirmed speakers here:
http://www.leadershipprogram.org/retreat-speakers
I can't overstate how valuable and enjoyable this two-day event is and I offer you my strongest encouragement to find a way to attend.  The Broadmoor has a limited number of steeply discount rooms available for participants in the Retreat.
So do yourself a big favor and Register Now, by clicking below.