Abhorrent Muslim behavior is a welcome wake-up call for Europe
The past year or so has seen Muslim behavior so repugnant as to get even the ultra-tolerant Dutch and spineless French to see the risk to their societies from the influx of Muslim immigrants.
For those of us who find merit in the idea of the Cold War as World War III, the current conflict between Islam and the civilized world is easily posed as World War IV. Europeans have a long history of being slow to react to their own imminent demise, often needing help from their overseas savior to survive. (This is not to say that the US responded with admirable speed in either of the first two World Wars.) The difference with World War IV is that Europe has allowed the invaders to live among them in the lead-up to war.
Over the past week, the behavior of Muslims in Europe has been perfect fodder for caricature. Unforunately it was cartoons that caused their outrageous conduct: Muslims across Europe are on the rampage in response to cartoons portraying their prophet Mohammed, including at least two showing him as a terrorist.
The cartoons were originally printed in September in the Danish newspaper Jyllands-Posten, and reprinted recently by other publications "in solidarity" with Jyllands-Posten. (The question of why Muslims are on the rampage 4 months after the cartoons' publication is also an interesting question.)
[According to the Financial Times, publications which have printed the cartoons include: Jyllands-Posten (Danish); WeekendAvisen (Danish); Frankfurter Allgemeine Zeitung (German); Magazinet (Norwegian); Brussels Journal (Belgium); DV (Icelandic); Die Tageszeitung (German); France Soir (French); Die Welt (German); Tagesspiegel(German); Berliner Zeitung (German); La Stampa(Italian); El Periodico(Spanish); Volkskrant (Dutch); NRC Handelsblad (Dutch); Elsevier (Dutch); Die Zeit (German); al-Shihan (Jordanian); Le Soir (Belgium); Le Monde (French); BBC (UK)]
I believe that the Cartoon Uprising of Muslims worldwide, but especially in Europe, is an unqualified blessing for the Western World. More on this after some discussion of the controversial cartoons and related issues....
Here, for your viewing pleasure are the two "most offensive" cartoons, portraying Mohammed as a murderer and terrorist bomber. You can click on the image to see all 12 cartoons originally printed in Denmark. (Note: If all 12 cartoons are small, move mouse over image or click on it and look for an icon of a magnifying glass or a square with 4 arrows coming out from it and click on that to enlarge images.)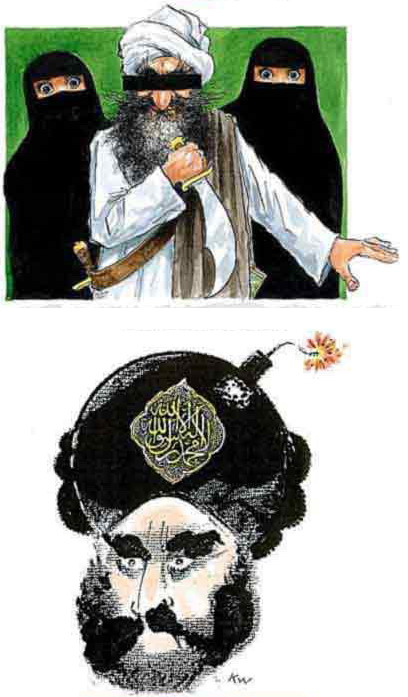 Where politicians throughout Europe are apologizing for the cartoons, newspapers across the Continent have reprinted the cartoons to show support for the Danish paper and to stand up for freedom of speech.
The Muslim reaction has been an often-violent demonstration of the dangerous intolerance which is at least as fundamental to the European Islamic "culture" as within Islam itself.
At least three Muslim nations have recalled their ambassadors from Denmark. Denmark's Jyllands-Posten has received bomb threats. Radicals stormed EU offices in the Gaza Strip, and according to the Washington Times: In Indonesia, about 100 members of the hardline Front of the Defenders of Islam stormed the Danish Embassy, chanting, "Let's go jihad. We're ready for jihad." One of their banners said: "Let's slaughter the Danish ambassador!" Yesterday, rioters burned the Danish embassy in Damascus. (The building also held the Swedish and Chilean embassies.) And today they burned the Danish embassy in Beirut.
Click HERE to see a few pictures of Muslim reaction in Europe from the BBC.
They can dish it out, but they can't take it

Arab countries have a long history of anti-Semitic and anti-American cartoons, in general far more offensive to an objective observer (not that I claim to be one) than these depictions of Mohammed.

Click HERE to read a discussion of "Major Anti-Semitic Motifs in Arab Cartoons" from 2004. For those of you have never seen such things, it will be an eye-opener, showing Muslim hypocrisy with stark clarity.

Here are a few more examples:
Tom Gross - Mideast Media Analysis, "Cartoons from the Arab World"
http://www.tomgrossmedia.com/ArabCartoons.htm

Start about halfway down this page, at the television show info:
http://www.intelligence.org.il/eng/bu/syria/media_1_04.htm

Another must see site is Palestinian Media Watch. I strongly recommend you take a look, and with the theme of this article I recommend their "Cartoons and Photo" section.
So, why is this cartoon furor a good thing? Because it is the first pan-European wave of Muslim intolerance followed by push-back from Europeans (even if it is newspapers rather than governments leading the charge for sanity.)
In prior events, whether bombings in London or Spain, a murder in Holland, or riots in France, the stories were easy for citizens of other European countries to say "It was a local event with limited relevance for us."
No longer. The courage of newspapers across Europe to reprint the cartoons has caused Muslims to show their true nature: Intolerant and hateful of other religions and cultures.
To be sure, there are many Muslims who do not agree with the violent reaction of radical Muslims. (THIS STORY from the Times of London has an interesting balance of reaction.) But those moderates are frequently silent, maybe in as much (or more) fear of their own co-religionists as the rest of the world is.
The worldwide reaction to these cartoons show Muslims in the worst possible light and may finally get European countries which thought that the problem of Muslim immigration was always someone else's problem to realize their true risk.
There is too much fear of offending Muslims. Radical muslims already hate the West as much as they can. Offending them will not make it worse. Europeans must take seriously the threat to everything they know and value. European governmets must no longer avoid strong action, stricter immigration laws, and more aggressive deportation and prosecution.
As Edmund Burke said, "The only thing necessary for the triumph of evil is for good men to do nothing." I would never argue that most European governments are mostly made up of good men, but the citizens of those countries are. Until now, there has been little pressure by citizens on governments in Europe to take the problem of domestic radical Islam seriously, and no consistent continent-wide pressure.
The reaction to these cartoons will change that and, with some new-found courage in Europe, may finally bring the beginnings of a cohesive European resistance to the cultural war that Islam has been, until now, waging with substantial success across the Continent (and maybe even more so in England).
From the German newspaper, Der Spiegel, here is an excellent commentary by a Muslim, essentially exhorting the West: "Do not apologize". Moderate Muslims in Europe should follow Mr. Warraq's example and start speaking out more aggressively against those who would hijack their religion.
"Democracy in a Cartoon" (Ibn Warraq in Der Spiegel, 2/3/06)
http://service.spiegel.de/cache/international/0,1518,398853,00.html
In large part due to the silence and inaction of moderate Muslims within European immigrant communities as well as inaction by weak-kneed governments, immigration of Muslims (now 10% of the French population, for example) has become a European cancer. Europeans have known something was wrong for years but have refused to see the doctor. But visions of an early death are a powerful incentive to take strong medicine.
We should thank the intolerant Muslim reaction to these cartoons for bringing into millions of homes nightmare visions of a future full of immigrant Islamic hatred for their hosts, for democracy, for freedom of speech, thought, the press, or religion.
Given the comparatively small cost (in lives and property) of the Cartoon Uprising, I am grateful to those radicals who finally made Europeans consider seeing the "cultural oncologist" and getting treatment before it's too late. I only hope the West as well as moderate Muslims have the courage to realize that the disease is indeed far worse than the cure.
---------------------------
NB: When a villain does one good thing, he is not instantly redeemed...not suddenly a "good guy" deserving of trust. Thus, this one good deed by European newspapers who reprinted the cartoons of Mohammed does not undo their generations of anti-Semitism and anti-Americanism. A perfect example is shown by the pleasant surprise of a French court finding the writers of a profoundly anti-Semitic article in a major newspaper guilty of "racist defamation". While I don't argue for censorship, the article was typical of French journalism which is hateful of the only democracy in the Middle East, preferring homicide bombers and radical mullahs who want nuclear weapons. [Please see my comment in the comments section below for clarification of this part of the discussion.]
You can read about the whole thing here:
"Anti-Semitism at 'Le Monde' and Beyond"
(Tom Gross, Wall Street Journal Europe, 6/2/05)
http://www.honestreporting.com/articles/45884734/reports/Anti-Semitism_at_Le_Monde_and_Beyond.asp