Not Ready 08 Central
Late Sunday afternoon I had the opportunity to be given a guided walk-through of the Republican National Committee's Denver headquarters, called "Not Ready '08 Central" by many of the RNC staff manning the battle stations.
Walking into the building, one is surrounded by the RNC's new poster based on their current tag line for the Democratic nominee-in-waiting: "A Mile High, An Inch Deep". The poster is complete with a digital-esqe picture of Barack Obama next to a (not to scale) ruler section measuring Obama at a firm 1" of height and proclaiming "Not Ready 08", which is not coincidentally the name of a new web site (www.notready08.com) which the GOP will be using to get out this particular message.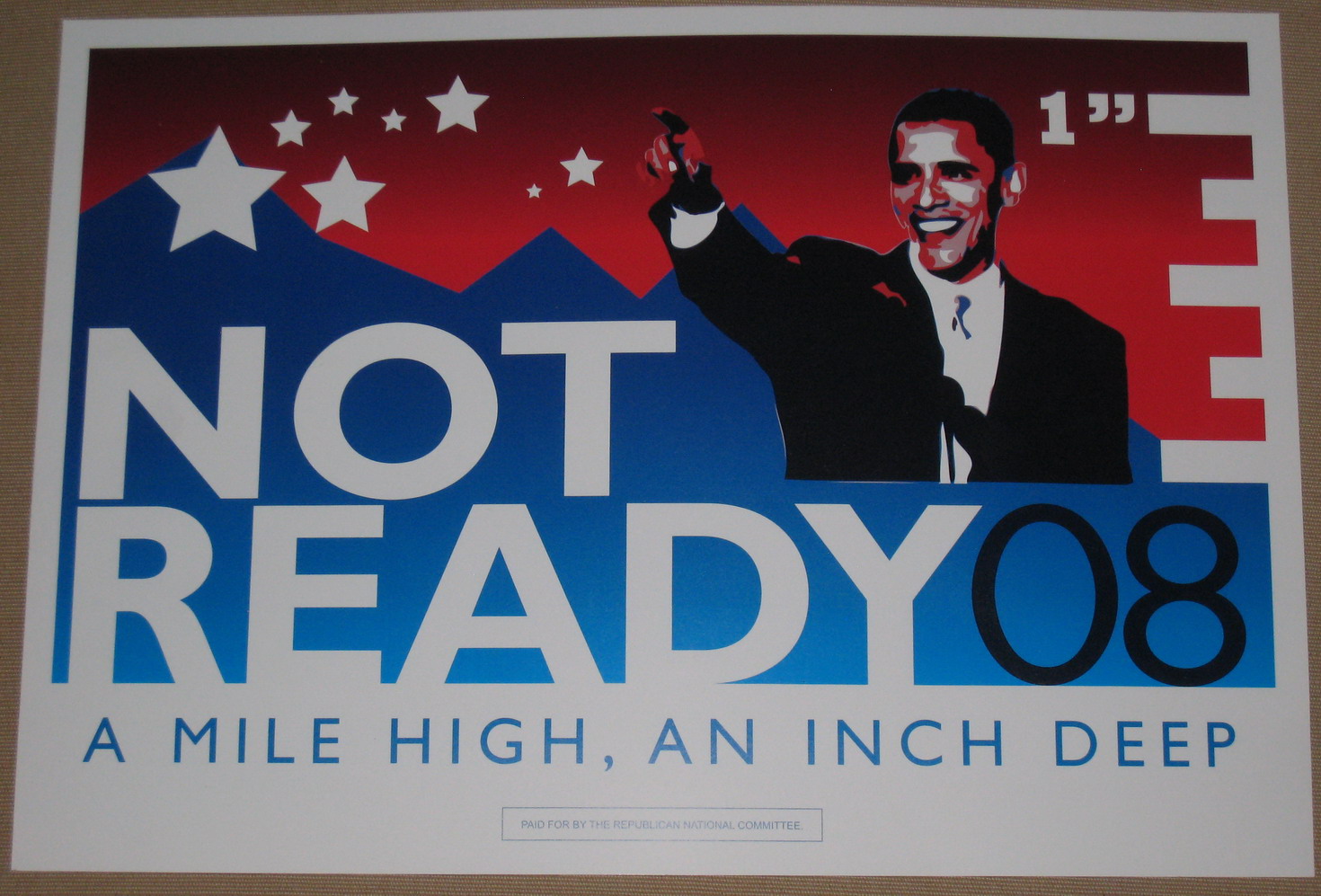 The facility walk-through was given to a small handful of journalists and guided by RNC Chairman Mike Duncan. We viewed the "war room" full of televisions and work spaces around a large desk where about two dozen Republican staff, including their top communications people, will be watching the Democratic National Convention, laptops at the ready, handling "rapid response and fact checking" of statements made inside the Pepsi Center, not least about Obama's "lack of record."
They will also be breaking other news, such as their involvement today in getting out the story that one of Joe Biden's sons is a top partner at a lobbying firm representing universities, hospitals and pharmaceutical companies, among others, and which has even lobbied Senator Biden himself. That will be an interesting twist in a campaign where the presidential candidate decries lobbyists and seems to hate drug companies.
The RNC has also rented their own satellite communication truck and have set up a 20-seat press briefing room, complete with professional lighting and video equipment, inside the building, which is walking distance from the Pepsi Center and Invesco Field.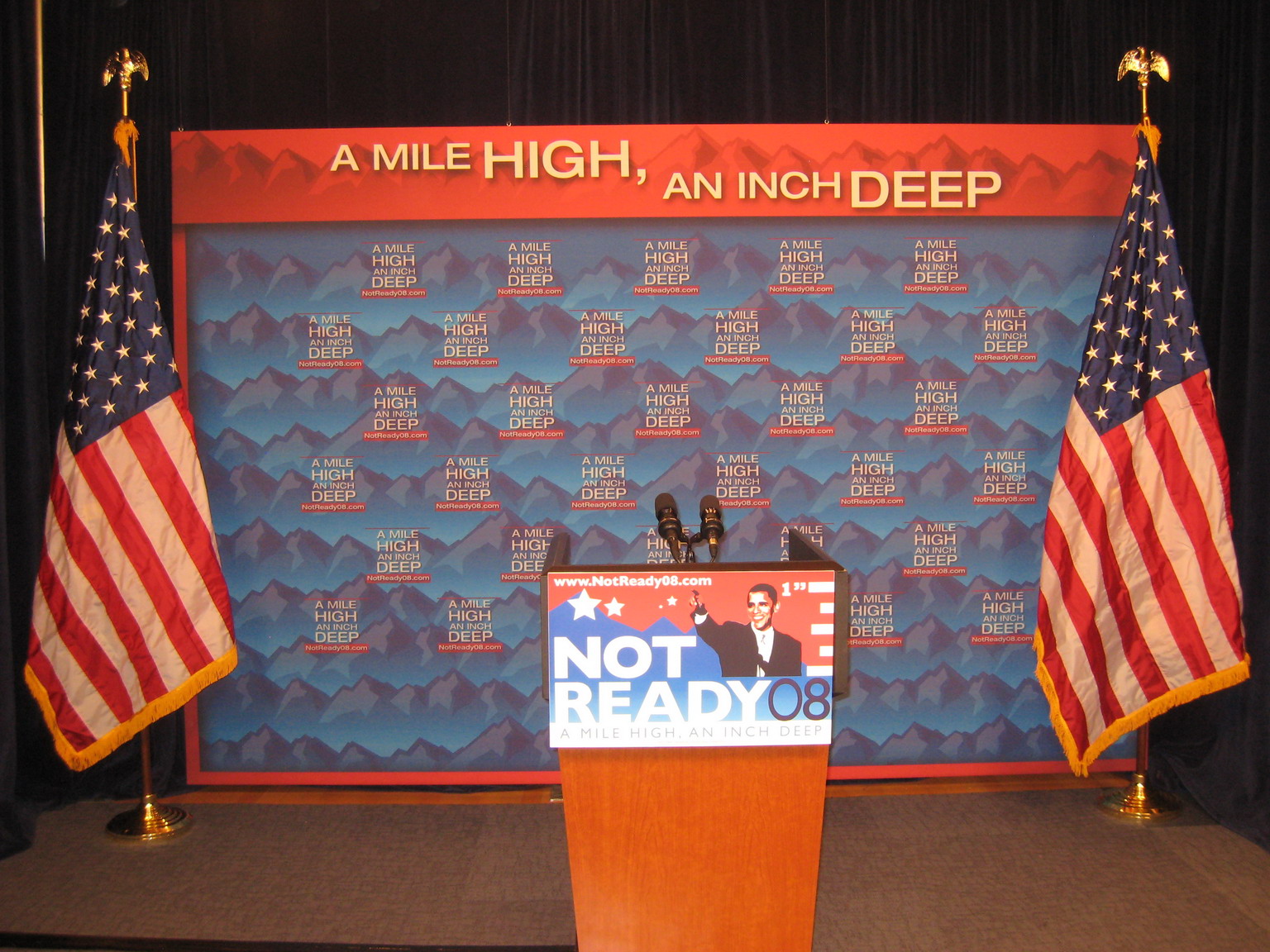 Chairman Duncan answered a few political questions, in addition to discussing the effort that went into selecting and preparing "Not Ready 08 Central". Duncan continues to believe that energy continues to be a (or the) key issue in the race, but believes that Obama is vulnerable on essentially every area of policy from national security to taxes to, of course, experience: "John McCain has lived a life of service, working across the aisle to make things happen…to accomplish things. Barack Obama hasn't been able to accomplish anything."
Duncan discussed how Republican Party fundraising has been much better than recognized, and that the GOP has more than enough cash on hand to fight the well-funded Obama campaign (even with Obama reneging on his promise to remain in the public election financing system.)
Duncan also described the "buyer's remorse" among some Democrats who still want Hillary to be their nominee and others who wanted her to be the VP selection, noting that the Democrats' division bodes well for Republican electoral success.
Overall, Chairman Duncan recognizes that it remains a very difficult year for Republicans but believes that the party's prospects are improving weekly and he is optimistic that "things won't be nearly as bad as people have been expecting", adding with a hint of a smile "I still don't expect us to regain the majority in the House."
During the course of the week, prominent Republicans and other McCain supporters will operate from the facility (and elsewhere), giving press conferences as well as interviews with various local and national media outlets.
On Monday, RNC Victory Chairman Carly Fiorina (notice none of that PC stuff like "Chairwomyn") will speak, as well as several prominent Democratic activists who are publicly coming out to support John McCain.
On Tuesday, the featured "surrogate" is Mitt Romney, followed by Rudy Giuliani on Wednesday and Tim Pawlenty on Thursday.
Overall, the walk-through gave an impression of a well-designed, well-managed operation with staff who will certainly make the most of any opening the Democrats give them. Each member of the RNC team seemed enthusiastic and anxious to get to work trying to demonstrate to Americans that in 2008 Barack Obama is Not Ready.