Rush at Red Rocks
OK, so this is WAY outside my usual range of blogging topics, but since it's a weekend posting and since it was so tremendously fantastic, I want to tell you about the Rush concert I went to on Wednesday evening. (The concert pictures aren't great because they were taken on a cell phone, but they're better than not having any pictures, so thanks to by business partner Steve H. for having his phone with him!)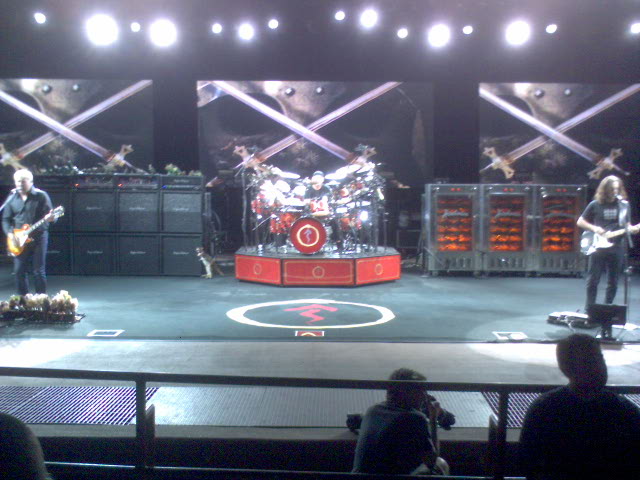 Rush played at Red Rocks Amphitheater, which is far and away the nicest concert venue I know of.
Here's a great picture (not from the concert I went to) that gives a sense of the place:
For those of you who don't know Rush, or don't know them well, you can read about them here:
http://en.wikipedia.org/wiki/Rush_(band)
Some highlights about the band:
It just has 3 members, Geddy Lee, Alex Lifeson, and Neil Peart. It's incredible how much music 3 guys can make.
Geddy Lee, born Gary Lee Weinrib, is the son of two holocaust survivors. To read a bit about how the experiences of Geddy Lee's parents affected his life and his much, this article is an interesting read.
Rush's first album (called "Rush") was released in 1974, followed soon by "Fly By Night" in 1975. Their big breakthrough was in 1976 with the release of "2112" which was based on Ayn Rand's short story "Anthem". In the album art for "2112" is printed "With acknowledgment to the genius of Ayn Rand." Rush's lyrics in general reflect views that one might consider essentially libertarian, as reflected in such songs as "Freewill". Click HERE to read a fairly interesting article by an NYU-affiliated researcher called "Rand, Rush, and Rock."
As for the concert itself, I had purchased (from a ticket broker for way too much money, although it was actually a good deal for those seats) second row center seats. They were basically the best seats in the house as the front row seats were not only twice as expensive, but are also a foot or two lower than you'd like to be since the stage is slightly raised.
The band had three large screens behind them which at various times showed the band members playing, animation, and short videos ranging from a dragon (when he breathed fire on the screen, fire came out of some sort of device in a few places on stage!) to a South Park episode where the kids are pretending to be Rush. Strangely, to the right of the drummer (from the viewer's point of view) they had three large rotisserie chicken machines, each with 18 (probably fake) chickens rotating. Twice during the show, some people came out in chef's hats to (pretend to) baste the chickens. It was rather random and quite funny.
The band played a lot of great old music, including "Freewill", "Spirit of Radio", "A Passage to Bangkok", "Tom Sawyer" and more, as well as several songs from their new album, "Snakes and Arrows".
I have to say, when they started off with a song I've know since I was in high school, it was almost an emotional moment...as hard as that is to explain.
The audience of over 10,000 people was standing for almost the whole show, which was 3 hours and 15 minutes, of which about half an hour was taken by the band taking a break in the middle. There was no opening band.
It's amazing to see and hear such talented musicians, especially from 20 feet away. It was without a doubt the best concert experience of my life.
If any of you like Rush, I can't urge you strongly enough to try to see them in concert. It was magical, and my voice is still hoarse from singing so much and so loud along with the music of my youth.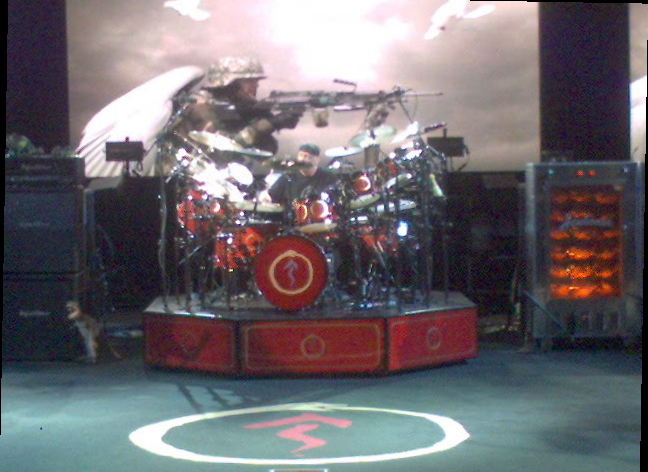 Neil Peart, the drummer, in front of big screen which, interestingly, showed soldiers with wings during the video behind a song about angels. How often would you see anything like that out of today's media industry?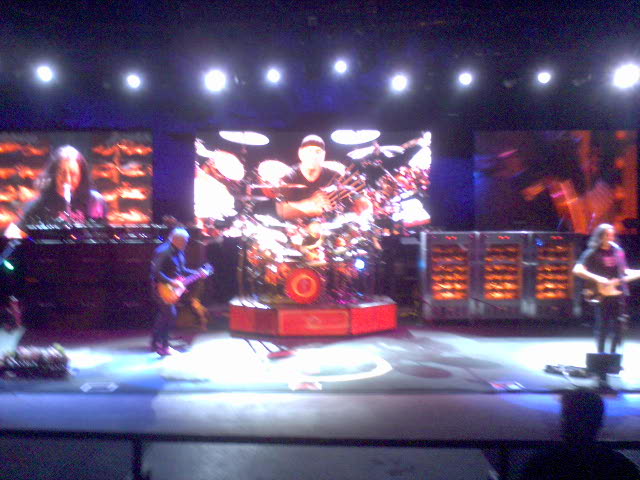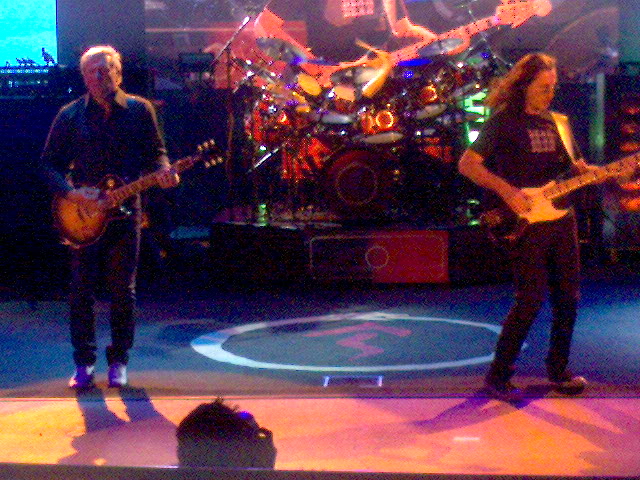 Alex Lifeson (guitar, left) and Geddy Lee (bass, right)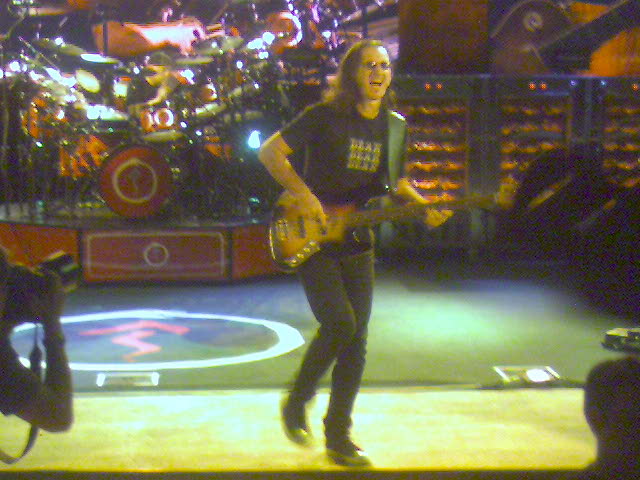 Geddy Lee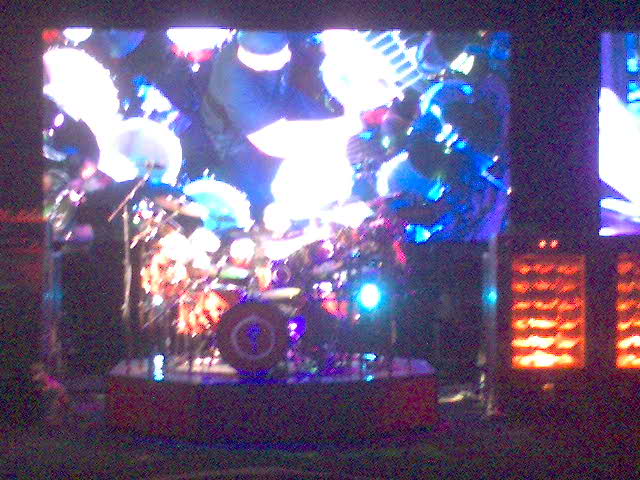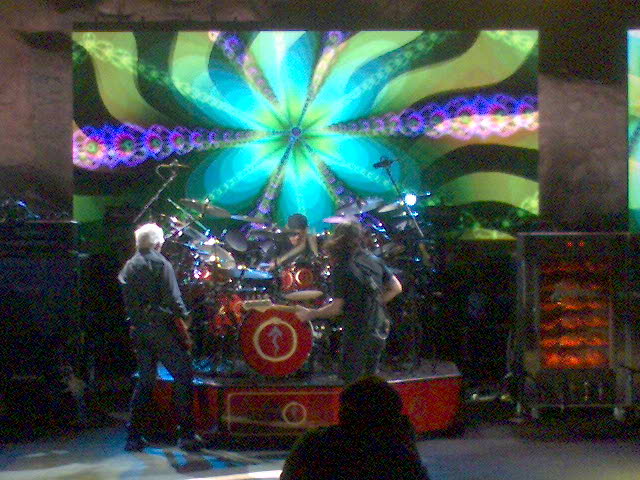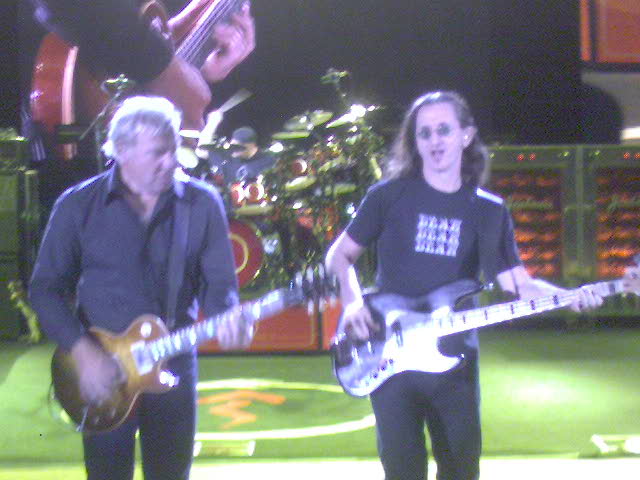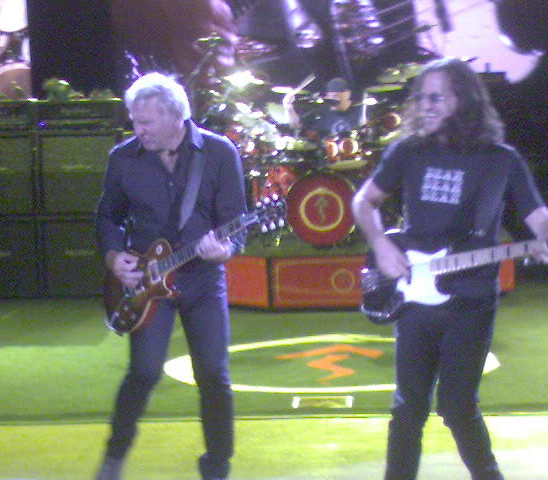 Alex and Geddy really seemed to enjoy themselves all evening.