Scott Elmore: Free speech in Boulder -- or not
Thanks to reader Scott Elmore for this "guest blog" on the subject of free speech...and how the left seems to have more of it than conservatives do:
You've been inundated with political ads, spin on words, and political debate from at least a couple of different angles (Ed: and at least one Angle) for the last few months. Most have your own opinions, and aren't terribly swayed by these ads. Others choose to take the spin, and disregarding their own intellectual honesty, choose to repeat it. This happens on all sides.
A popular local conservative talk show host often says he wants to know where someone sits, before he hears where they stand. I'm male. I'm married (and to the mother of my children!). I'm heterosexual. I'm a classic WASP. I'm also a free-thinking conservative. My beliefs are a culmination of life experience, upbringing, religion, and some sort of ingrained natural inborn intellect. For better or worse, that's who I am.
I don't agree in lock-step with any political party. I choose to be registered with a party so that I might participate in the primary process. Many of my views conflict with some of the "hard-core" views of the Republican movement. I often am forced to challenge both friends, and people whom I respect, that their stated (party) ideology conflicts with their own statements and/or actions.
That said, I'm certainly of the, "I disapprove of what you say, but I'll defend to your death your right to say it," mentality. This quote, oft attributed to Voltaire, (I'll leave the scholars to argue the origin) is a difficult position to take in today's political arena; yet here I stand. With many far left progressives so clinging to the First Amendment to defend actions, "art", and statements as free speech; it's easy to get frustrated.
Our founders did not equivocate the right to free speech. It is, after all, the First Amendment in our cherished Bill of Rights. I'm no scholar, but I am fairly certain the fathers considered it pretty important to make it FIRST. As a principled individual, I must, therefore, accept that when I see depictions of Jesus Christ involved lewd acts portrayed as art, or hear Ward Churchill refer to the WTC victims as "little Eichmanns" that others are expressing their constitutionally protected views.
Ironically, these same leftist progressives have recently brought the issue of free speech to the forefront. The recent criticism of the often controversial Bill O'Reilly for his comments on a daytime TV show, for example, followed by the firing of one of the left's own, Juan Williams, from NPR, for speaking his beliefs...leave many heads shaking in disbelief! Which way would you choose to have it? Do we in fact have a right to free speech or don't we?
I've recently heard everything from, "Americans are complicit in the 9-11 attacks," to a reference by current Gubernatorial candidate John Hickenlooper that rural Coloradoans are, "backwards thinking."
I'm sometimes offended; I often disagree. I do, however, wake up daily thankful that I live in a country where we all can express our views. At least, we're supposed to be able to.
My statement culminates in what I've seen for the last few weeks in Boulder County. Apparently, the first amendment does not apply to conservative thought; at least not with regard to political signage nor private property.
I finally had to speak out today when I saw what I depict in the picture below. Political signage on the property of some recently departed pillars of a community has been defaced, time and time again, over the last few weeks. Today, I just couldn't take it anymore. Ironically, the signage belongs to tenants on the property, but I grew up in the town of Lafayette, and no-one who knew the family I refer to could have anything but contempt for the recent vulgar and hateful graffiti that now adorns their property.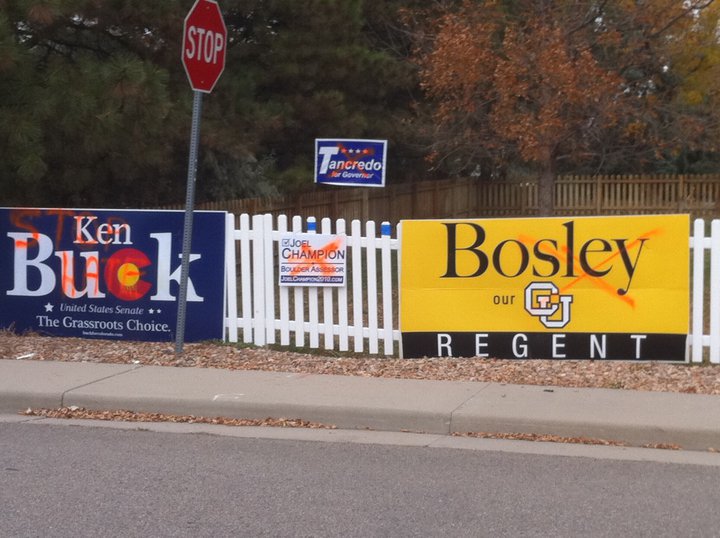 Take a look for yourself. As a conservative, I don't see the first amendment as a one way street; it has no qualifications for ideology. If you want to make a point, feel free to do so. Please do not begrudge me or anyone else our right to do so as well.
The hypocrisy is incredible; the lack of media attention to this matter reflects this same hypocrisy.
Respectfully,
Scott Elmore
Citizen, USA
-------------------------------------
Note from Ross:
I appreciate Scott's point.  One comment I would make is in response to his charge of hypocrisy by the left.  He is, of course, correct.  But I have often said and will say again that it's extremely ineffectual to charge the left with hypocrisy, at least in comparison with the right, because leftists don't generally claim to be motivated by principle.  Instead, they're motivated by reaching a particular outcome.  That's why, for the left, the Constitution is an impediment rather than a foundation.  It's why they can be for something one day and against it the next day if they think it's not getting to their beloved redistribution of wealth.  It doesn't matter if the switch in policy betrays an utter lack of connection to any fundamental principle of the rule of law.
It's gotten so bad -- or rather so well-known -- that the left has no principles, that few people even bother accusing them of hypocrisy, although it is rampant in the sense of the double-standard the left and their media pawns apply.  Behavior such as Scott points out, if it were destroying Democrats' campaign signs, would be all over the news.  But when the vandals are attacking Republican property, nobody in the "mainstream" media cares.  That said, the people do care, they're waking up to this along with everything else, and it's part of the reason they're abandoning the "mainstream" media in huge numbers.
Finally, I would note that we should beat the left at their own game: if they refuse to be judged based on principle but instead only on outcomes, we should say "fine, let's look at the actual outcome of leftist policies."  Whether it's the welfare state's destruction of the American black community or the genocide of political opponents in a half-dozen leftist tyrannies throughout the world during the 20th century, leftist policies -- even if you forgive their essential lack of principle -- have been utter failures.