Taxpayer funded ceramic dildos? And you want to RAISE taxes?
see "State-funded sex-toy art upsets governor" (Denver Post & Channel 9 News, 7/21/05)
http://www.denverpost.com/search/ci_2878027
This story has gotten a lot of play in the blogosphere in the past several days, but I can't keep from piling on. Not only is it another wonderful argument against the massive permanent tax hike disguised as Referendum C, but it's a great chance to post a funny picture on the site (something I haven't seen the other bloggers do.) The story goes like this: In 2003, the State of Colorado gave a $5,000 art fellowship to Denver artist Tsehai Johnson who had made "Twelve Dildos on Hooks" (note: the name was temporarily changed while applying for the fellowship) a few years earlier. About the "implements", Johnson said that "they're meant to be sex toys, but sex toys that are talking about a lot of issues." So, with credit to Chicago's ARC Gallery (website:
http://www.arcgallery.org/
), here are the pictures of the art in question: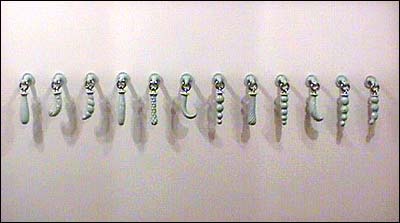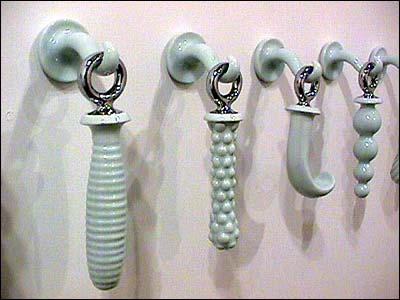 While I think the art is silly, it's basically harmless. But if this is what the Colorado legislators are doing with our money it's hard to imagine that any reasonable citizen can with good conscience support Referendum C, which will allow the government to keep an estimated $3.7 billion dollars (over five years) that would otherwise have to be refunded to taxpayers. I'm sure we can all put OUR money to better use than this. Vote NO on Referendum C.