The Deficit Unmasked: The Social Security Problem Nobody Is Talking About
Most of the discussion of critical Social Security dates has moved from the meaningless Trust Fund exhaustion date in around 2042 to the more significant 2017 date when payroll tax receipts fall below required benefit payments. However, there is a important (although subtle) political and economic problem which will be upon us within 3 years: a declining Social Security surplus.
OASDI Annual Balances
Source: 2005 Social Security Administration Trustee Reports
[As a percentage of taxable payroll under the intermediate assumptions]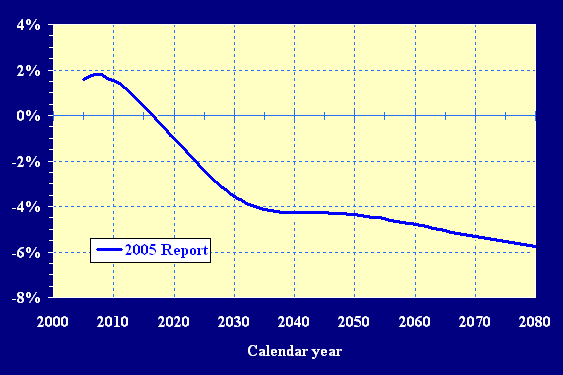 One may reasonably ask how there could be a problem while the system is running a surplus, collecting more in tax than it pays in benefits. Aren't we actually increasing the value of the Social Security Trust Fund during this time? The short and truthful answer is no, and that fact has serious and immediate policy implications.
The Social Security surplus is treated as general revenue and spent by the Congress, with an IOU for the surplus amount entered into the Trust Fund. The Trust Fund is not invested in anything. It is full of arguably worthless IOUs. Since the Trust Fund does not hold real assets, when repaying the IOUs to fund retirees' benefits the government must act in precisely the same way it would if there were no Trust Fund: by increasing borrowing or raising taxes.
Common wisdom is that this will happen in 2017 when the system begins running a deficit and that we don't have a real problem until then. However the common wisdom ignores the fact that co-mingling Social Security funds with other tax receipts during a payroll tax surplus masks the true extent of government's deficit spending.
The Social Security surplus in fiscal 2004 was $164 billion. The government used it to offset part of the total spending deficit to reach a net reported deficit of $412 billion. In other words, the reported deficit would have been about $576 billion without spending the surplus. The surplus camouflages a budget process which is more out of control than even most critics realize.
While government spending goes up every year, beginning in 2008 the annual Social Security surplus starts declining as large numbers of Baby Boomers start retiring. This means that all else being equal the budget deficit will begin to increase much faster than government spending. As the surplus becomes rapidly smaller starting in just 3 years the government will become less and less able to mask its true profligacy.
This quick and rapid budget deficit increase will cause tremendous political pressure to cut programs or increase taxes. Of course, politicians are not excited about either of these, but are likely to lean towards higher taxes instead of spending cuts. (Passing tax cuts with widely-spread costs is easier than spending cuts which more directly effect interest groups.) Either choice will be politically difficult and will allow the Democrats to accuse Republicans of budgetary negligence.
Unfortunately, this charge is justified. The recent spending habits of D.C. have been more wasteful under Republican control than under the prior divided government. As the Social Security surplus begins to decline, the true scale of our wasteful and pork-laden budgets will be exposed, and our politicians along with it. The only way to begin to deal with the problem is by significant and immediate budgetary discipline in Congress or some well-placed Presidential vetoes, but I'm not holding my breath.
It is reasonably possible that we end up with the worst of all possible worlds from the point of view of fiscal responsibility: the declining Social Security surplus fully exposes undisciplined budgets which must be funded by increased taxes, causing political chaos and Republican losses in elections. On the other hand, maybe Republican losses in elections aren't such a bad idea if that is the only way to force them back to managing the citizens' money prudently.
Republicans and Democrats alike are focused on 2042 or 2017 as important dates for solvency trouble in the Social Security system. But because the government has raided the Trust Fund of any real asset while finding it impossible to control their own spending, we now have the problem of a declining surplus beginning in 2008, just three years away. The real deficit will soon be unmasked, bringing political and possibly economic turmoil to the country, and there is not enough backbone in Congress to prevent it.