Travel Photos: Banff and Lake Louise, Alberta, Canada
These pictures are from March, 2002...
Some friends and I went up to the Banff area of Alberta, Canada for a ski/snowboard trip. We flew into Calgary (which we didn't get to explore but heard good things about), and drove a bit less than 100 miles west. We rented a beautiful log house near the town of Canmore, about 15 miles from Banff and about 50 miles from Lake Louise.
This map will give you a rough idea of the layout of the area:
http://www.canadianrockies.net/maps/
For our first few days, we went to some of the ski mountains nearer to us than Lake Louise, including Sunshine, which we very much enjoyed. (You can get info about Sunshine at http://www.skibanff.com/.)
Here's a picture of me and Kristen enjoying a beautiful day skiing. (Actually she's skiing and I'm snowboarding.)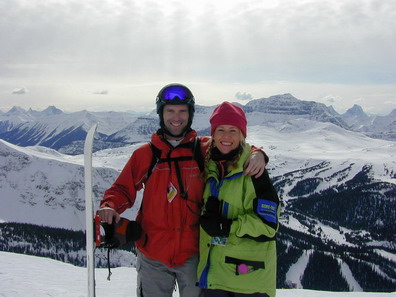 _
And here's a picture of the spectacular Canadian Rockies:
_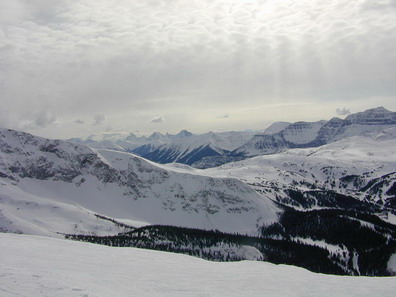 After a couple of days skiing near Canmore, we ventured farther to the famous Lake Louise, which has a ski resort of the same name. Its web site is here: http://www.skilouise.com/
I might have it confused with another place we skied on this trip, but I think it was Lake Louise where you ski back and forth over the boundary between Alberta and British Columbia. OK, it's not THAT interesting, but I thought it was cool.
Unfortunately, we hit the front edge of a cold front coming through which blew all the powder off the mountain, leaving us skiing on a giant (and dangerous) ice cube. So, we quit skiing for the day and went down to the famous Chateau Lake Louise (now part of the Fairmont chain of hotels.)
The Chateau is a beautiful building in a spectacular location...well worth a stay if you can afford it sometime. Although we were there in winter, we hear it's at least as beautiful in the summer. I recommend you click on the link (HERE or just above) and then look at their "slideshow".
Here is a picture of the Chateau taken from the surface of the frozen Lake Louise: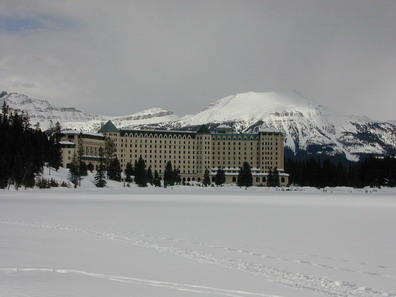 -
And here is a picture of the frozen lake taken from in front of the Chateau: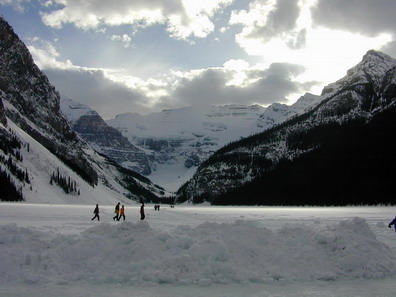 I really enjoy Canada. The people are nice, the food is good, the culture is surprisingly interesting (and not just in the French parts), and (at least until the past couple of years) the currency was weak enough to make you feel as if you were getting a good deal. I wouldn't hesitate to go back to almost any part of Canada...even with their currency being much stronger.
Let me leave you with a view of the Canadian Rockies taken from the Lake Louise ski resort: