Travel Photos: Bangladesh
Fifth in a series of Sunday travel articles and photos:
The only things most Americans ever hear about in Bangladesh are devastating floods or sinking ferries. It's quite unknown to the average tourist, and indeed tourists are quite unknown to the average Bangladeshi.
The CIA Factbook entry on Bangladesh is here:
http://www.cia.gov/cia/publications/factbook/geos/bg.html
Bangladesh is the 8th most populous country in the world although only the size of Iowa. It is very poor with most of its 140 million people working in agriculture, especially rice production and subsistence farming. The majority of GDP comes from "services" but while in the country it's pretty hard to imagine what that really means except finding ways to spend money coming from from the UN and aid organizations.
With little tourist infrastructure, the most common question Kristen and I got while in the country are "Why are you here?" followed by a look of great surprise when "tourism" or "just to see Bangladesh" was given as the answer.
The second most common question was from men asking what our relationship was with a look of great disappointment when hearing that Kristen was indeed married.
Bangladesh is a Muslim country which was formerly part of Pakistan after it split from mostly Hindu India. But the Bangladeshis didn't like being ruled by a far away government (the rest of Pakistan is north-northwest of India while Bangladesh is east of India, northwest of Burma) and a civil war ensued which, in 1971, resulted in an independent but very poor country.

(thanks to www.travel-guides.com for this map)
The infant mortality rate is an astonishingly high 62 per 1000 births. For comparison, India's rate is 56, Mexico and Thailand both 21, and the USA is 6.5.
The capital, Dhaka, is a busy, dirty city, as you might expect. With about 12 million people, it's full of traffic of all forms imaginable. One of the most interesting forms is the brightly colored bicycle rickshaw, of which there are probably 50,000 in the city. For an interesting discussion of Dhaka and rickshaws, click here.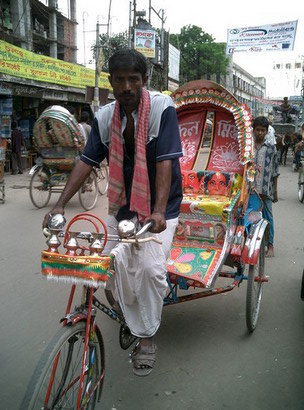 There are also people bringing materials between businesses, often very large quantities of materials, and often having to move them without any motorized assistance. Views such as this are quite common: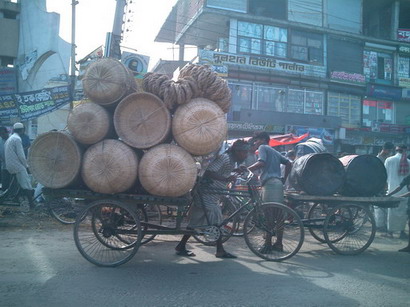 I didn't particularly enjoy Dhaka with the exception of the docks and river which are constantly in motion with ferries, people selling fish, fruit and vegetables from boats, and the general crowds which one might associate with an overpopulated very poor 3rd-world capital.
Here are two pictures, one a pineapple salesman and one of people commuting to work in the city. Note the giant ferries in the back ground of both; these are the boats that you hear about sinking during hurricanes and hundreds of people drowning because they're always massively overcrowded.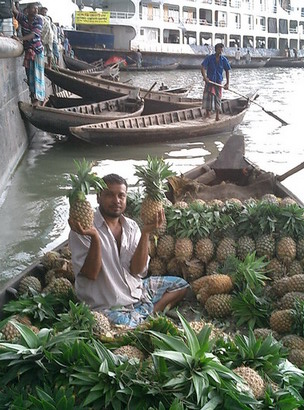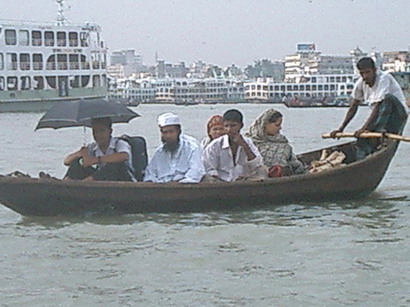 One great photo Kristen took was of a young man who was a crew member on a ferry taking a shower on the back of the boat by dumping pails of river water over himself.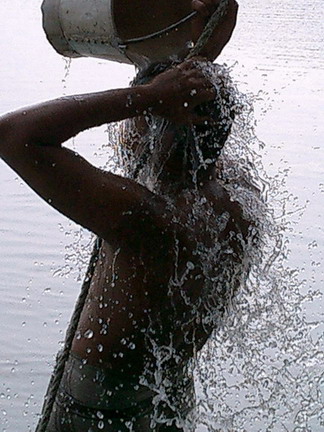 Most of the population is Muslim, and currently not very happy with the United States. After I time I stopped telling people I was American and just said "I live in Australia", which was true at the time. If they thought you were anything other than American, they were very happy to meet and talk to you, especially if you wanted to discuss the national obsession: the game of cricket.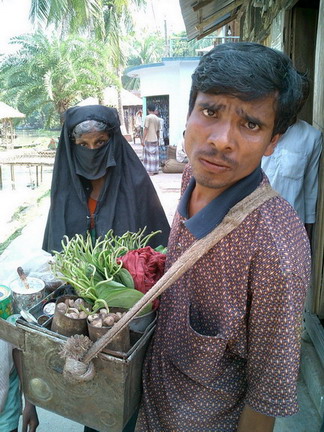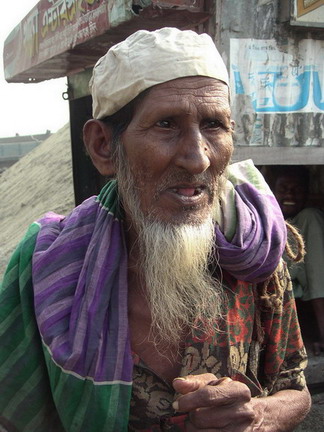 The food is essentially like Indian food, though of a lesser average quality. One would expect a country with so many rivers to have plenty of fish, but generations of gill-netting and over-fishing have made finding reasonably large fish to eat rather difficult. The government is implementing rules forbidding nets of certain materials and configurations but these rules are largely ignored by the population who would prefer to eat than to be legal but hungry.
During part of our trip down the Ganges river to the Bay of Bengal, some industrious fishermen pulled up near our boat to sell us some fish, which our crew bought and made for dinner. The sails on their boat were quite a work of art and science, made up of various pieces of material sewn together as best they could. We called them "Crazy Sails".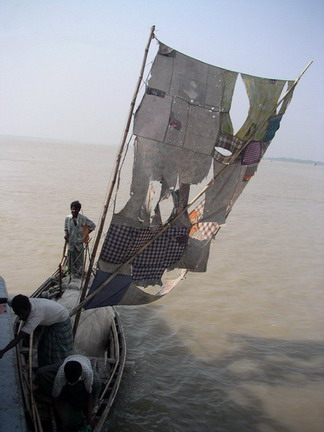 Here's a picture of a fisherman's boat with a typical poor river village behind him: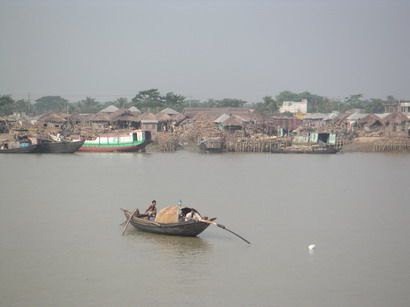 At the end of our cruise, we reached the Sundarbans, which is a large area of river, jungle, swamp, and mangrove, filled with deer, snakes, dolphins, water birds, and the occasional Bengal Tiger, through which the Ganges runs until empties into the Bay of Bengal.
Here's a picture from the World Wildlife Fund showing the mangroves from overhead, to give you a sense of what the area looks like:

Here are some spotted deer on the river bank play-fighting to establish dominance while a young deer looks on: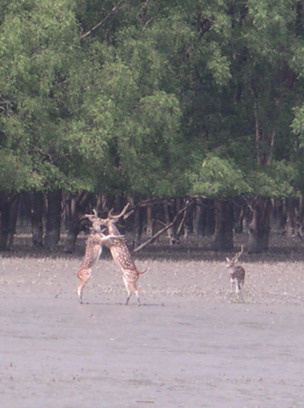 And it's not a great photo because I was moving fast to catch it, but here's a King Cobra swimming by our little boat in a river tributary: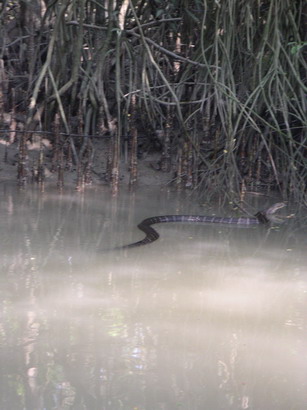 The Sundarbans are truly a spectacular place, and although it's one of the most visited areas of the country, still very few people go there and we never saw another westerner there. For more info about the Sundarbans, try these links:
http://www.smartoffice.com/tiger/
http://www.answers.com/topic/the-sundarbans
During the season after the monsoon, when the river is flowing rapidly, the emptying of the river creates a fresh water beach in the Bay of Bengal (part of the Indian Ocean). You can swim in the Bay with your eyes open, and the water tastes fresh but given that it's the Ganges, maybe the dirtiest river in the world and one in which the Indians burn bodies at Varanasi, you might not want to take a big sip.
Taking a boat ride through some of the river's tributaries around sunset is one of the most beautiful and peaceful things I can ever remember or imagine doing. It looks something like this: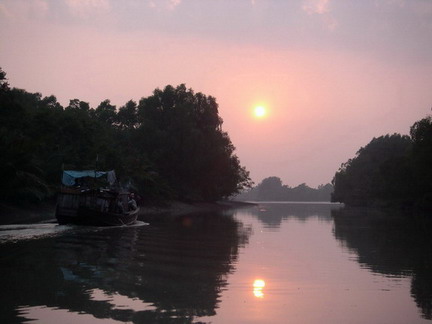 The few locals who live around there are fisherman, like this lad here: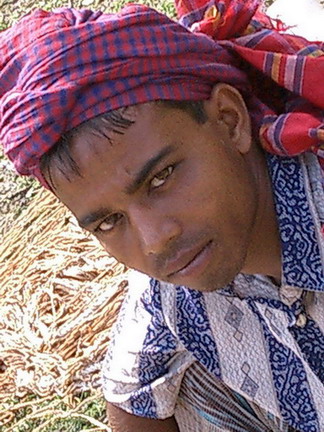 When we finished this trip, we went to Khulna, an industrial city of about 600,000 people. The view from their seaport on a foggy morning was surreal: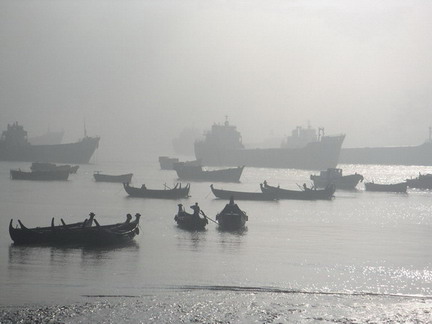 In an area of the country away from the rivers, called Banderban which is in the Chittagang Hill Tracts, we stayed at a nice but rustic hotel with our own little cabin overlooking the jungle. Chittagang is in the southeast of the country and is the home to many different tribal groups who are more south-east asian (i.e. Burmese) than Indian. They do very interesting weaving and have traditional jewelry, and live in their own villages with fairly little interaction between tribes. You can find some info here:
http://www.classictours-bd.com/hilltracts/hilltracts.htm
Here's a picture of a Chakma lady and her grandson: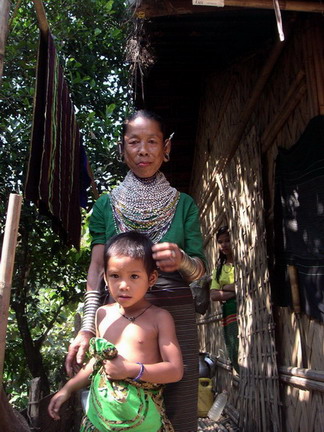 Well, I've left out a LOT about Bangladesh, including the story of being there during Ramadan, the month when muslims don't eat during the day, and Iftar, the fried-food-feeding-frenzy that takes place each sundown during Ramadan.
I've left out the interesting museum at Sonargoan and the truly insane ride to get there. One of the most memorable aspects of Bangladesh, in particular the area around Dhaka, is the traffic. There are no rules except that the largest vehicles simply do whatever they want and if you're in a car you get out of the way. No exceptions. It makes Rome look like a small town in Wyoming in terms of traffic.
OK, that's enough for this posting. As always, please feel free to comment and to write me directly if you'd like any travel advice!