Travel Photos: Hampi, India
The 14th century ruins at Hampi were once the seat of India's Vijayanagara empire, primarily in what is now the state of Karnataka, better known in the modern world for the high-tech city of Bangalore. Hampi is now a World Heritage site and still has strong religious meaning for many Hindus who visit. Imagine visiting the Forum in Rome or the many ruins in Greece, finding them in mostly excellent condition, and being able to walk through and around them as you please with almost no other people to disturb the peaceful environment or mess up your travel photos. Here's a great little site about Hampi:
http://www.webonautics.com/hampi/hampi.html
You can read some good information about Hampi at this site:
http://www.karnataka.com/tourism/hampi/
Thanks to
mapsofindia.com
for the following map showing the location of Karnataka within India:
Thanks to
South India Tours
for this more detailed map of Karnataka itself, in which you can see Hampi just northeast of the center of the state: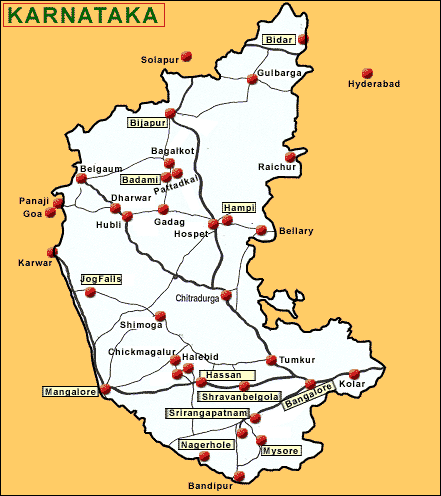 When you first arrive in Hampi, you see the 160 foot tall nine-tiered Virupaksha Temple, parts of which pre-date Hampi itself with a history as a temple probably as far back as the 7th century, and one of the few temples in Hampi still used for religious purposes. You can read excellent detailed information about Virupaksha Temple here:
http://www.hotelskarnataka.com/html/virupaksha-temple.htm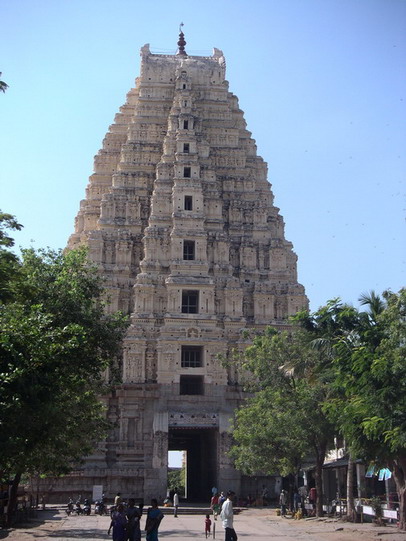 At the end of the Virupaksha Bazaar (with the Virupaksha Temple at the other end), you find this courtyard: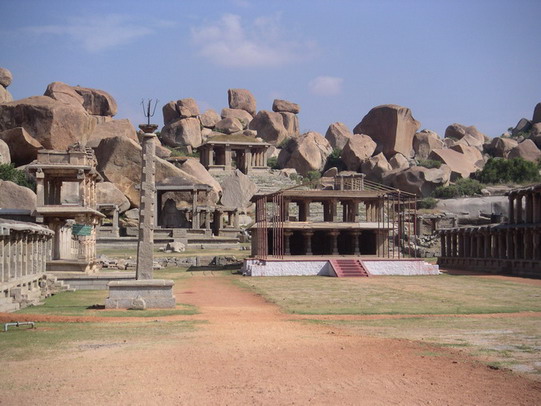 Following the dirt path visible in that picture, you reach this excellent sheltered sculpture of a bull: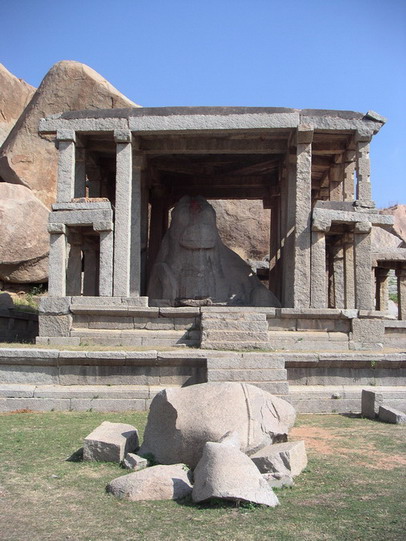 There's a lake in Hampi, which you can tour in an excellent round boat, made of tarred local long grass, and piloted by a local young man with one oar. It's best not to touch the outside of the boat, especially just after fresh tar has been applied, as Kristen learned just after this picture was taken: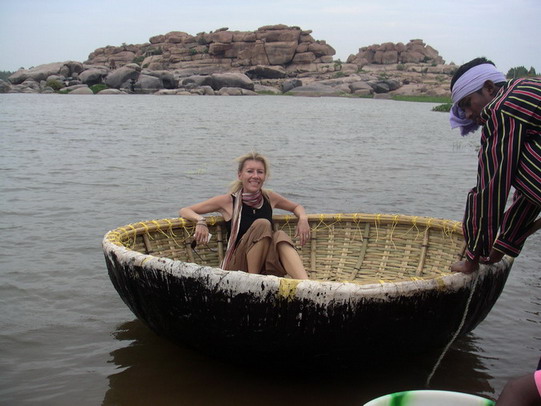 Carved into the rock near the lake are a male and female figure worshipping a "Shiva Linga" (or "lingam"), an object of ancient worship, predating Hinduism but which has become an integral part of it. You can read about this fascinating (and phallic) symbol of worship at
http://en.wikipedia.org/wiki/Lingam
.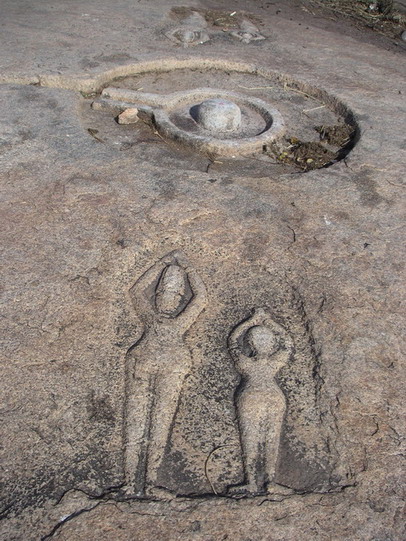 In another part of Hampi is a massive 10-foot tall Shiva Linga housed in its own structure, fed by water coming through a channel carved centuries ago.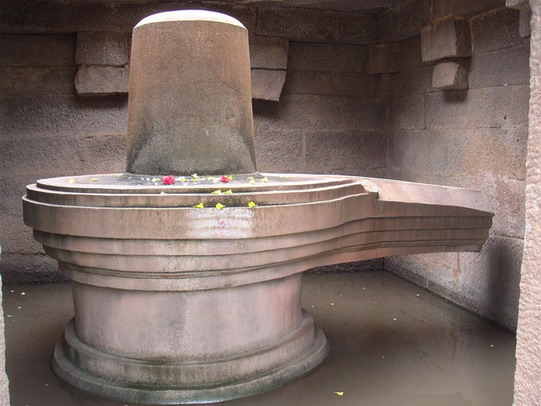 Near the lake, there are occasional legitimate and fake sadhus, essentially Hindu mystics, who mediate, do yoga, and spend a lot of time asking tourists for money. For more on the sadhus, check out this article:
http://en.wikipedia.org/wiki/Sadhu
This guy on the other hand, is a less mystic and more beggar, though very well mannered.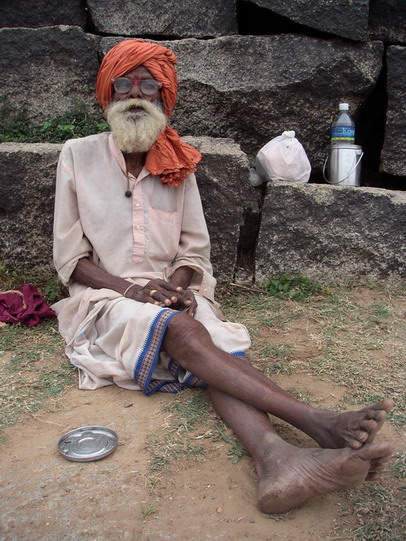 This incredible sculpture is Lakshmi-Narasimha, or Ugranarasimha. He is half man, half lion, about 20 feet tall. It was probably made in 1528 and partly destroyed about 40 years later. He sits on a 7-headed cobra, whose heads form the shelter over his head. Despite his age and damage, Narasimha is an incredibly powerful figure.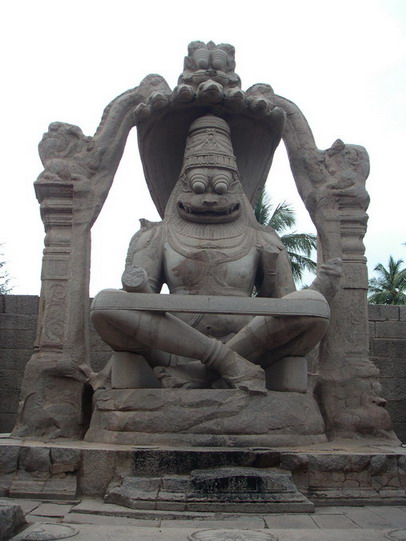 On the road from Hampi to Hospet, there's a beautiful old temple which is still in use. Here's a detail shot of an outside wall: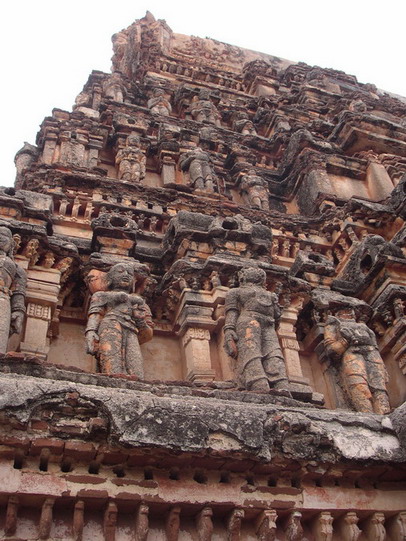 Finally, to bring you back to the 21st century, here's a picture of Kristen in a "tuk-tuk", the primary form of taxi in most of India: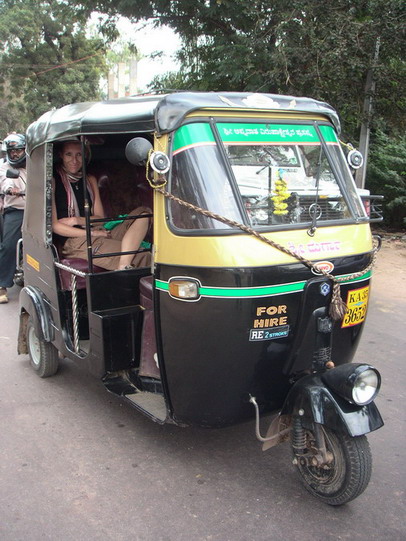 I hope you've enjoyed this little visit to one of the world's great archaeological sites.