Travel Photos: Oudtshoorn, South Africa (Ostrich capital of the world)
Oudtshoorn, the ostrich capital of the world is in the Klein Karoo area of the Western Cape of South Africa, between the famous Garden Route and the Swartberg mountains.
Thanks to vuvuzela.com for this map of the Western Cape...you will find Oudtshoorn towards the eastern end, away from the coast:

You can find a lot of general information at http://www.oudtshoorn.com/
And you can read about ostriches here: http://en.wikipedia.org/wiki/Ostrich
Here's some history of Oudtshoorn's glory days from the Oudtshoorn page at Frommers.com: "It was the ostrich that put the Klein Karoo on the map: During the late 19th and early 20th centuries, when the world decided that ostrich feathers were simply the hautest of haute, Oudtshoorn, where the first ostriches were farmed, found itself crowned the feather capital of the world. Local ostrich farmers, known then as "feather barons," became millionaires overnight, building themselves luxurious "ostrich palaces," clearly identifiable by their sandstone turrets and other baroque touches. Sadly, the boom went bang in 1914, with the sobering outbreak of WWI. The profitable trade in feathers never really recovered, with fickle Dame Fashion seeking her postwar inspiration elsewhere, but with the current health scares surrounding red meat, the ostrich is again enjoying a surge in popularity -- it's a delicious and low-fat alternative to beef, and bears absolutely no resemblance to chicken."
So while there is a lot to do around Oudtshoorn, including visiting caves, biking, hiking, and all sorts of outdoor activities, seeing wildlife and natural beauty, it's really about the ostriches.
So, Kristen and I stopped by Highgate Ostrich Farm, one of the several large show farms which raise hundreds of ostriches each year, making products of all sorts from their feather, their leathery skin, and their meat.
Here's the link to the Highgate farm: http://www.highgate.co.za/
Here's the chairman of the welcoming committee: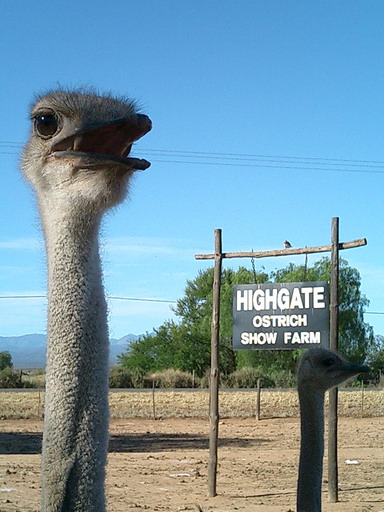 You learn a lot about ostriches while on a tour of the farm, from how they're born and raised to what they eat to what you make from them.
Ostriches can live 70 years, and can run for distance at 30 miles per hour with bursts up to 40 miles per hour. They can be 8 feet tall and can weigh as much as 400 pounds, though typically they're closer to 7 feet and 300 pounds.
They have incredibly tiny brains and are clearly not very bright, but they still have a certain loveable charm. Here's Kristen making friends: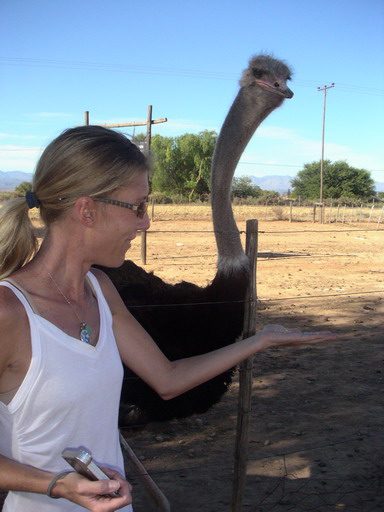 Ostrich eggs can be about 6 inches in diameter and about 10 inches in length, and can make an omelette equivalent to 24 chicken eggs. Ostrich eggs are very high in cholesterol, so you might stick with chicken eggs, but ostrich has about the lowest cholesterol you can find in any meat. By the way, ostrich meat could easily pass for beef or buffalo. It looks and tastes nothing like any bird or fowl you've ever had.
One amazing fact is that ostriches can lay a group of eggs over the course of several weeks, but the ostrich won't sit on the eggs until they're all laid and then all the eggs hatch at the same time, generally at 42 days, plus or minus one day.
Ostrich eggs can hold at least 300 pounds of weight (applied slowly). Here's Kristen standing on ostrich eggs just to prove the point: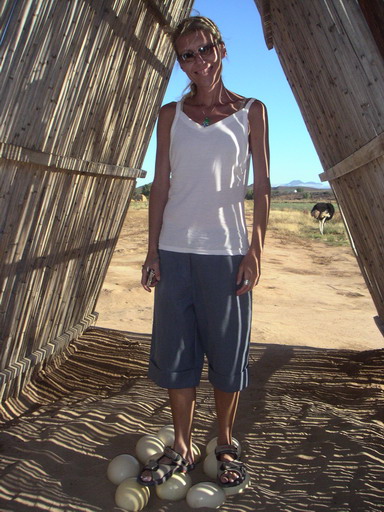 As part of the farming process, workers often help baby ostriches out of their eggs. Here's a picture of a baby just beginning to work his way out: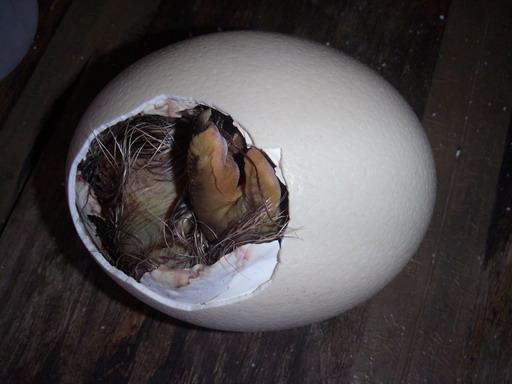 And here's a farm worker freeing a baby bird from his confines: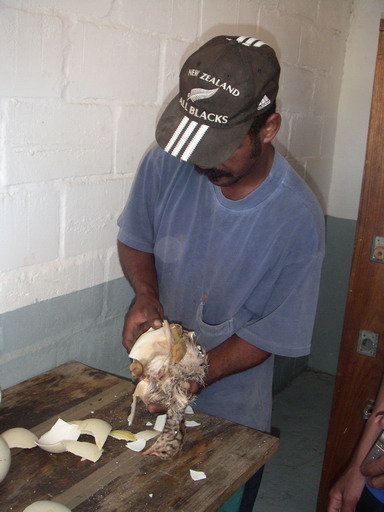 One rather amusing pastime is riding and racing the ostriches. It's like riding a giant chicken. You sit far forward on their backs, hook your legs in front of their legs, and hold on tot he base of their neck.
There's little point in holding on to the middle of their neck because the neck has 20 or 21 vertebrae, making the neck hyperflexible in almost any direction. So if you hold the ostrich's neck and push or pull it, it moves just as if you were moving the middle of a rope or a slinky.
I rode an ostrich, at least until a farm worker started hitting it on the behind and it took off at high speed in a circle at which point I fell off, just missing landing in a pile of ostrich poo.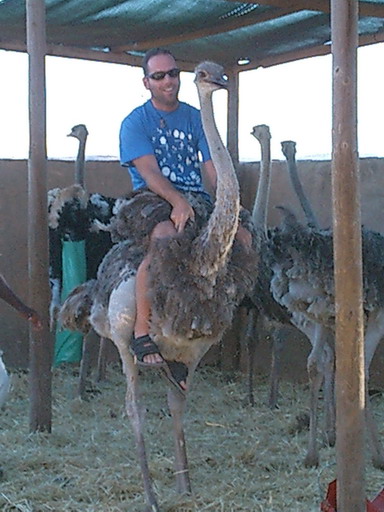 The farm workers take their ostrich rides much more seriously, with high speed races that would make the Kentucky Derby jockies jealous.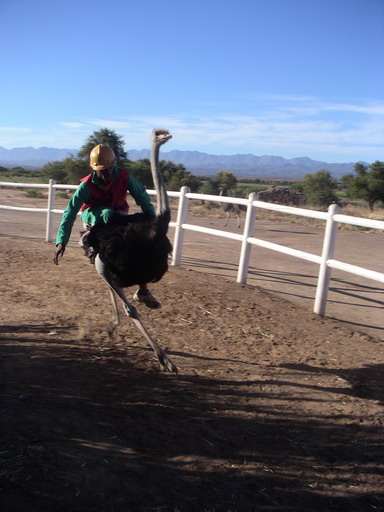 Ostriches swallow stones which rest in their digestive tracts to help grind up and digest their food. For some reason, they're attracted to almost anything shiny which they'll eat for this purpose. Among things found in ostrich stomachs have been spark plugs, coins, and a huge diamond.
There's a lot more to learn about ostriches and I hope you'll read some of the info at the links I've provided. I'll leave you with a picture of one of Highgate's finest: